Remote Operation Monitoring Service for Solar Power Generation System
We have a pleasure to propose the Remote Operation Monitoring Service to maintain long term stable operation of solar power generation system.
What is "Remote Operation Monitoring Service"?
On behalf of our clients, we carry out monitoring of power generated at Solar Power Generation System. Our expert engineers perform daily monitoring to find earlier a sign of defect or malfunction, and provide proper instruction of primary counter measures, when any of failure is found. We also help our clients in preparation of business reports as result of power generation and business operation.
Summary of Service

1. Our expert engineers daily monitor the operational situation on behalf of client.
2. By monitoring, we find earlier a sign of defect or malfunction and provide a proper instruction for primary counter measures.
3. Various data management is performed and we provide reports from the views of operational and financial points. In the event of any trouble being raised, we fix it at the site and do our utmost to restore as early as possible.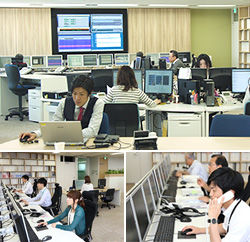 Structure of Remote Operation Monitoring Service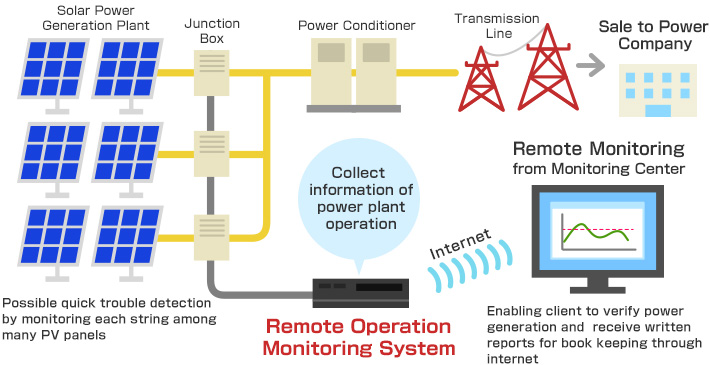 Feature of Remote Operation Monitoring Service
1.No influence by climate conditions:

Operation is safely managed without influence of climate by detection of DC current and voltage on each string (some dozen of PV panels) and verification of deviation among strings.
2.Possibility of quick restoring action:

It is possible to quickly detect failures like defect by each string, malfunction of power conditioner, unusual condition on main power line (due to power company) etc., and take quick action for restoration.
3.Output for book keeping:

By output of book records like daily, monthly and annual reports, it is possible to summarize various reports on solar power generation business.
4.Utilization for EMS (Energy Management System)

Besides, measuring power generation for solar power system, it is possible to utilize the system to measure various energy consumption at factories and offices. It is applicable to EMS (optional).